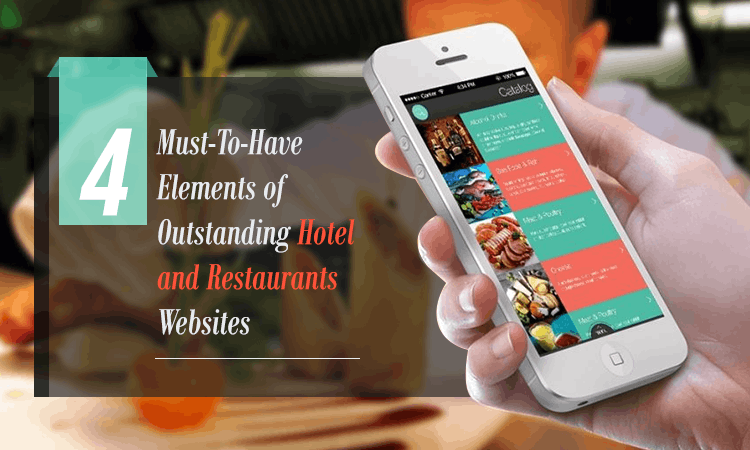 4 Must-To-Have Elements of Outstanding Hotel and Restaurants Websites
The hospitality and restaurant industry is quite competitive, leaving no room for uncompetitive websites. Association with a renowned restaurant websites design company matters at the end of the day if you really want your website to perform. Shooting in the dark and making guesses won't help but seeking hotel website design services would surely do. This is because they could equip your website with the crucial design elements that will keep the performance metrics up to the top.
If you are wondering which are the crucial design elements that turn your website into a sales machine, then read below to get acquainted with them:
Well-Designed Navigation Menu
An attractive navigation menu could act as a showstopper but only if has the charisma to gain the attention of the landing visitors. Leverage its best potential with the help of restaurant website design company. It will open the doors to conversions if designed keeping user search queries in mind. It should be placed at the prominent position where your users can find it in a fraction of second. Design it with clear visuals and you will love the aftermath!
Ability to Make Reservations and Order Food Online
That's pretty much important design element and a must-to-have in your hotel and restaurant website. You would be surprised to know that online food ordering serves more customers than a typical dine-in. If you want to achieve those ambitious sales goals, allow ordering the food online. Simultaneously, you might like your prospects to book their check-ins online without waiting for anything. Give them the way to do so with the online reservation that could facilitate more transactions online. In fact, even at the time when you are at sleep, won't you love it?
Provision to Display Specials Offers and Discounts
During the festive times or low season, you might want to attract your customers with special offers and discounts. You might like to create a buzzword about the newly introduced soup specialties, weekday specials or giveaway of the month. It keeps the existing customers hooked to your business while winning new more customers for you. But you need to have a design feature to display those special discounts, giveaways or Valentine's specials in the most enticing way. It will serve more than a purpose!
Social Media Icons Placed at Prominent Position
Winning clients from your website would be a lot easier if you list your social media profiles on your website at a prominent place. You may keep them at the top right or at the bottom left or anything that your design company suggests. For a restaurant and hotel business, advertising on social media is a great way to gain likes and reviews that make them stand out. Don't expect your prospects landing on your website to Google your social media profiles. Instead, place your well-designed social media icons on your website and link them to their respective social media profiles. By implementing this design feature, you will give them a way to engage with you.
The Final Takeaway
A website well-built is half the sales won! That's true, indeed! Before you jump to ask for hotel website design services, you need to know some must have design elements to incorporate into your website. The contemporary design elements that are discussed here could give you the much-needed competitive edge over your customers. It will eventually make your sales part easier that will help you churn out profits out of the hotel and restaurants website design. Now, you know what makes an outstanding site, it's time to transform it into sales machine!
Want to make your sales part easier? Associate with an established restaurant websites design company such as IQMinds and reap the high ROIs. Having a good grasp of compelling design features for hospitality website design, we here to wow your customers. Let's talk.