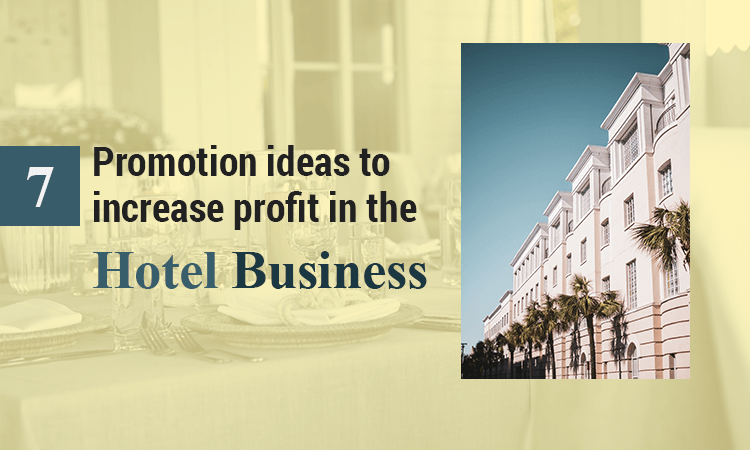 7 Promotion Ideas To Increase Profit In The Hotel Business
Nowadays, hotel managers are looking for attractive promotional ideas with the aim of increasing bookings. There are a number of hotels that are using smart hotel management software to ensure effective hospitality management. Obviously, hotel management systems are efficient to increase the value of hospitality services and the emergence of information technology has generated more opportunities for the hoteliers to search for innovative ideas. In simpler words, hotel management software lets you apply promotional ideas more confidently.
Boosting the hotel business is perfectly possible to generate more revenue with the help of effective ways. In fact, promotional activities are performed to attract target audience because, with advanced hotel management systems, hotel managers already have sufficient data to plan promotional campaigns.
Here, we are providing some attractive promotional ideas to boost your marketing campaign.
Seasonal promotional activities:
Most of the hotels believe in seasonal promotions because the conditions are favorable and increasing the price does not affect the revenue cycle. However, special discounts and offers can work positively when you do not expect bookings.
Convert a deal into a profitable package:
You may design a complete package according to the behavior of the customers. Attractive elements of a package should be profitable for your customers because nowadays, a lot of travelers are looking for a complete package to save money and time.
Rewards for your loyal customers:
Rewarding programs attract customers who have visited the hotel and making attempts to call them back is easier than making some new clients. Your hotel management software provides sufficient data to design a loyalty program for your old clients.
Targeted promotions:
These promotional activities are performed to attract your target audience. Suppose your hotel is situated in a hill station and in this situation, you can offer a discount or rewards for the customers who come for vacations or honeymoon.
Partnership promotions:
Hospitality is a wide sector and several related subfields are ready to attract some customers who may enjoy the services of similar businesses. Therefore, hotel managers may develop partnerships to promote their services. For example, a hotel may develop partnerships with recreations centers, resorts, marriage homes, entertainment parks, cinemas, museums etc.
Do not ignore online presence:
Nowadays, most of the internet users are like to search on search engines while they want information related to their desired topics. Therefore, hotels should consider that fact and must empower their marketing campaign with a strong online presence. Today's marketing professional rely on online promotions and other promotional styles come later.
Pay more attention to budget while conditions are favorable:
Every hotel manager knows the importance of seasonal revenue generation since conditions are in favor during this period and the hotel may expect more bookings. This is the best idea you spend more money on your marketing efforts while most of the customers are going to call you.
To sum up, these promotional ideas can be used by today's hoteliers with the help of hotel management software Dubai because of the improved level of efficiency in data handling and revenue management. So, use these ideas with the assistance of a smart hotel management system.