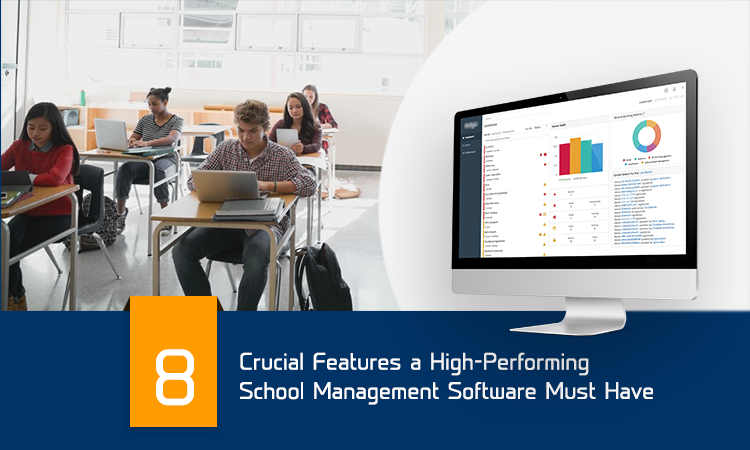 8 Crucial Features a High-Performing School Management Software Must Have
Managing a school could be overwhelming, considering the quantum of operations you need to manage on the daily basis. Opting-in to a school management software could help you run it flawlessly. You could manage the whole operations without leaving your desk. Managing a school is easy as that with an enterprise resource planning software. Managing report cards, admissions, academic progress of students with parents could be done hassle-free and in a faster way than you can imagine.
But before you buy an enterprise planning software, you need to assure that it has all the modern features to serve you. Let's check out a few crucial features the school ERP software you are going to invest must have:
Portal Dedicated for Student Information
A typical Education management software developed for a school must have a student database that teachers and administrative staff can readily use for official purposes. It should include crucial information pertaining to students such as his/her attendance, grades, academic achievements and so on. Additionally, it should also keep the medical history of students along with personal information.
Ease of Access to Parents into the Portal
A highly appreciated school or college management software must be parent-friendly so that they can watch their kid's academic progress on the go. Parents should be able to see their kid's attendance report, grades, assignments and educational activities without any delay. Additionally, it should help parents to see which events are going to be organized in the school along with dates and crucial details so that they can plan their day out ahead of times. It should also enable them to contact teachers for clearing out their queries or to ask questions.
Teacher Portal to Perform Crucial Tasks
It should have a teacher portal so that they can avail any information they need about students. It should let a teacher quickly see the daily/weekly and monthly class schedules and student activities. It should support teachers in sending updates about student's performance, report card, events or any other important information. It must also have a provision to upload/edit information as and when necessary.
Rich Features that Facilitate Quick Communication Online
An ease of communication is the key feature that a highly appreciated ERP software for a school must have! The information uploaded on the software must be automatically synced with everyone in the loop, be they are students, parents or teachers. It should ease the workload of your administration staff by eliminating the need for making phone calls to parents. Additionally, it should have the pre-defined templates to help your administration staff quickly craft and send emails to parents on the important days such as annual day, teachers' day, etc.
Update Attendance and Maintain Timetable On the Go
A top-notch school management software must make the administrative tasks easier with hassle-free attendance and timetable management on the cloud. The era of marking attendance on the register has gone. It is replaced by ERP systems that could help teachers in managing attendance in just a few clicks. It should also have the provision to upload timetables that can be shared with the parents at the click of a button. Eventually, it lets teachers manage attendance and manage timetables online.
Online Assignments for Students Assessment
At times, teachers might need to test the knowledge students have acquired. For their ease, the ERP software should support online assessment feature. In addition, teachers should be able to send them online assignments to help prepare them better for the term examination or check their knowledge level. The school ERP software you are going to invest should support these features.
Automatic Generation of Report Cards
Getting a report card issued to a student is probably the most tiresome task for a teacher. Teachers need to compile a lot of information into it which is time-consuming. This is where a custom developed ERP software should support them with the features that help process report cards quickly. For instance, it should have a pre-loaded student database that should automatically data for most of the columns on the report card. Teachers just need to check and approve or make a few amendments to make it available for students and parents instantly.
Online Payments and Fee Tracking for the Administrative Use
Paying fees to your school could be a hassle for parents if you don't accept online payments. This is where an school administration software could play a major role. The software should accept credit/debit card payments or net banking. It should be able to produce a receipt and email that to the parents as soon as you receive the payments from them. It should make a log of past transactions so that you could see them if the need arises.
The Final Takeaway
Considering any ERP software won't address all of your needs. To know if the school management software is a close fit to your school's requirements, it should meet all the features discussed here. An enterprise resource planning software is a boon not just for your staff but for parents and students as well. Rest assured that it will make the life of everyone in the loop a lot easier. Just make sure that you choose an ERP partner carefully that is willing to power-pack the software with the latest and meaningful features.
Wondering who could help you out with the school ERP software that has all the rich features your school demands for? This is where IQMinds matters! We are a renowned ERP software development company that's serving some of the prestigious schools across the Middle East. Let us be a reason for the smooth management of your school. Consult us now for the ERP software that assures high returns on investments.