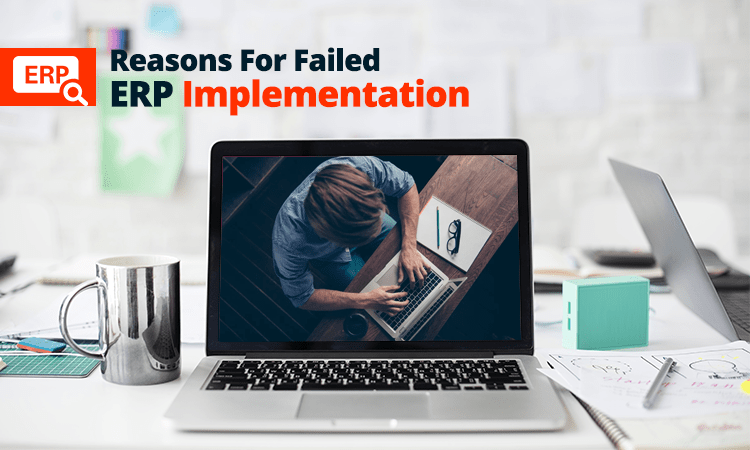 Reasons For Failed ERP Implementation
ERP software solution for businesses functions like a prime management system for a company and it shows the importance of the requirement of correct implementations of your ERP system. Correct output of the ERP solution is essential to make proper decisions and in the case of incorrect reports or analytics, the business has to pay a heavy price for minor mistakes. It is possible due to a single incorrect action, multiple departments are effects. Therefore, successful implementation of the business ERP software is necessary and only a reliable and experienced ERP software company is capable of implementing the ERP system effectively for its clients.
When you hear about the stories of success of ERP projects, effective implementation plays a vital role in most of the cases. You may change your ERP system or may be going for an upgrade, you must avoid some mistakes while you are going to implement your ERP business system.
Here we are going to tell you about the most common reason for implementations failures.
Unnecessary replacement:
Sometimes a company just need a slight change but the management may decide to change whole the system due to minor problems that are easy to resolve. Wise ERP solution provider can easily upgrade an element of the entire system. Therefore, it is better you never misjudge your requirement before you make a decision.
Inexperienced consultants:
In most of the cases, a company will not take a risk of working with inexperienced ERP consultants. Wise business owners like to hire outside consultants or work with the ERP business software company directly.
Improper testing:
Testing is an important phase of implantation because the main purpose of software testing is to check if the ERP system fulfills what you needed and providing error-free outputs. Ignoring this critical phase of implementation may leave bugs and ignored important areas that should be corrected immediately.
Poor assistance:
You cannot expect that all the issues are resolved after the implementation period. This is the reason most of the companies need proper post-implementation support from the vendor or software development company. Finally, the business owners have to choose a company that provides proper support and assistance at every stage of implementation.
Wrong ERP system:
There are several ERP solutions available in the market and every system has its unique features. It is possible the business owner is confused to choose the correct system and wrong decisions can be made during this stage. Therefore, choosing a wrong solution can be the main reason of implementation failure.
Unclear goals:
Where would you reach when your destination is not pre-decided? You have to tell the ERP software company about your goals, expectations you have, and the problem you are facing before you purchase business ERP system for your organization.
Not required customization:
Customization is required as per the main goals of the organization since every business is unique.  But, sometimes, the management is not able to understand the risks of over-customization that is costly and wastes the time as well.
Ignoring the quality to save money:
ERP solution deals are based on important features and the cost is generally a deciding factor. But, wise businessmen do not avoid the quality of their new ERP business system.
Finally, you understand the risks of implantation failure and if you are looking for a high-quality business ERP solution without the risk of implementation failure, you can call the support executives of IQminds ERP System Company.